About
Growing up, I liked it when people would tell me I am a fast runner. Now, I enjoy when people comment on the speediness of my programming.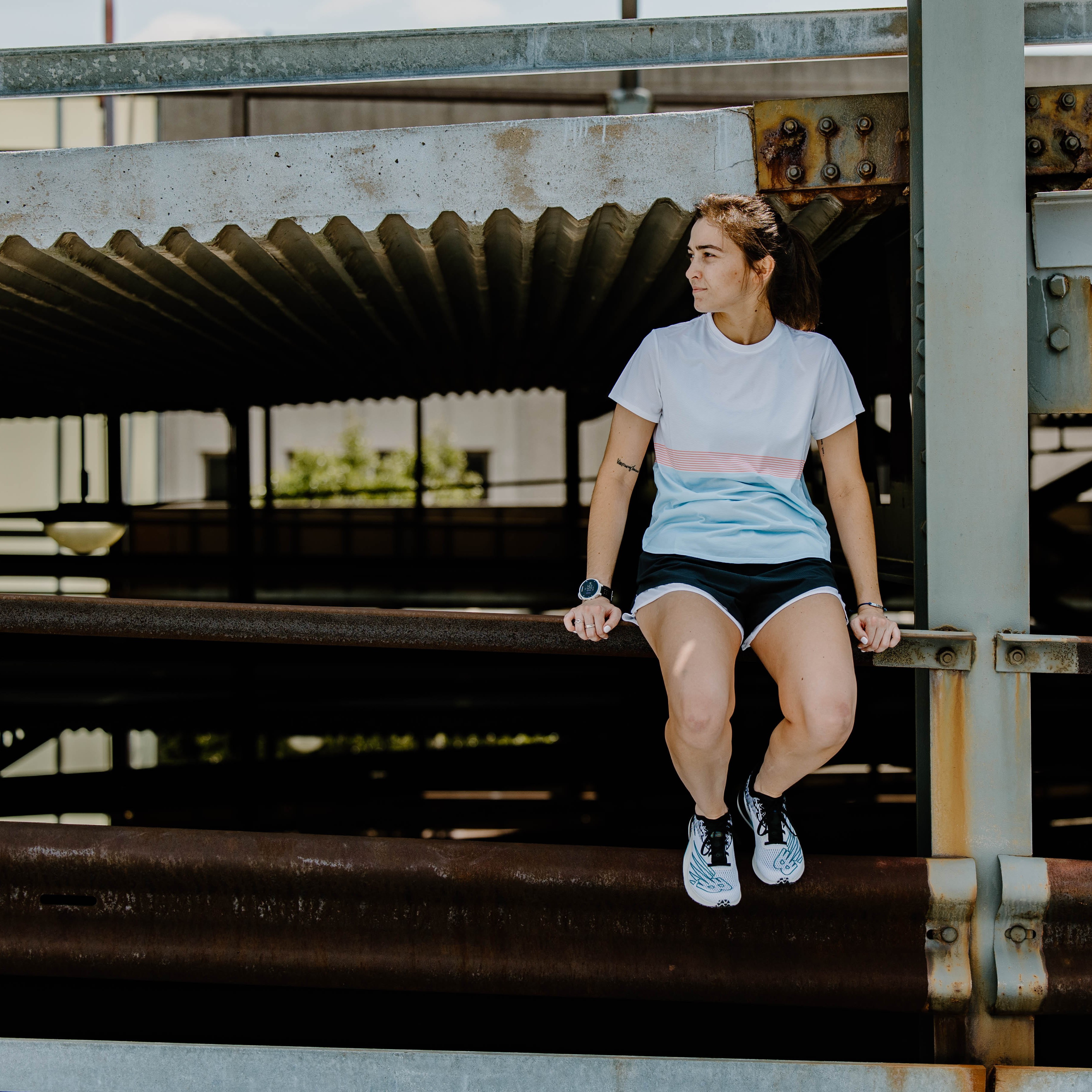 Data Fanatic
Later on, after obtaining my BA in Marketing, I discovered my passion for data when I became a consumer insights and analytics intern. Within my first week, I fell in love. I was so excited that I could finally apply what had always come naturally to me – science and math – to something that also required artistry and creativity.
Age:

27

State:

Colorado

Next Race:

Chicago Marathon
After that, I spent a few incredible years in different data analytics roles. I went back to earn my MS at Columbia University to learn the modeling techniques and work with data science tools that help businesses make better decisions. That degree only further ignited a fire to become more technical, so I am taking more classes in applied math and computer science. I am soon realizing that data engineering is my favorite aspect in the data hierarchy of needs.
Facts
In true data fanatic fashion, I keep track of certain important numbers in my life. You know, like dates or how many miles I've run...or how many slices of pizza I eat each year.
Yearly Average Slices of Pizza Consumed
Favorite Color (in Decimal)
Skills
While it is hard to quantify how much skill I have in certain areas, I would say this provides a rough estimate. I have a passion for learning new skills and a growth mindset; therefore, these will never reach 100%, but I'm excited to gain knowledge and make these grow.
Resume
Dig a little deeper into what I've been doing over the years.
Education
Master of Science
2022 - 2024
University of Colorado Colorado Springs, Colorado Springs, Colorado
I am going back to school (part-time) with a focus on applied mathematics and computer science.
Master of Science
2020 - 2021
Columbia University, New York, NY
As a student in the Industrial Engineering and Operations Research Department, I concentrated on Business Analytics.
Thesis: "Fast-Moving Consumer Goods Sentiment Analysis"
Bachelor of Arts
2014 - 2018
University of Mount Union, Alliance, OH
Graduated Magna Cum Laude with a major in Marketing at an ACBSP Accredited university.
Minor: Interactive Media
Dean's list and Trustee Scholarship
Tau Pi Phi (Honor Society) Case Competition Placer
Requested by professors to meet with Department Chair candidates and provide my feedback
Spoke on a panel to the Business Advisory Council members and Executive Board members about my experience placing in a case study competition
Volunteer and Extracurriculars
Columbia University Women's Soccer Club
Division III Women's Cross Country/Track and Field Team
Devoted 25+ hours per week to athletics while gaining valuable leadership and team-building experience.
Won an academic all-conference award.
Started with a Step
Established a website (crowproject.com) and video series showcasing runners from DIII runners to professionals
Designed corresponding t-shirts
Donated the $1,500+ proceeds to those affected by global poverty
Ran the Boston Marathon to raise funds
Envision Radiology Community Outreaches
Habitat for Humanity
Care and Share Food Bank
Silver Key Senior Services
BlackForest Animal Sanctuary
Cheyenne Mountain Zoo
Brooks Running Inspire Daily Program
Engaged with my social following to show off Brooks Running products and inspire them to live healthy lives
Girls on the Run
Ran with, encouraged, and mentored young girls to be joyful, healthy, and confident
Tests, Certifications, and Skills
The ETS Major Field Test for the Bachelor's Degree in Business
Scored 7.2 points above the National mean score.
HubSpot Inbound Marketing Certification
Google Digital Garage Online Marketing Fundamentals Certification
DataCamp Data Scientist Professional Certificate
Skills:
Python | R | SQL | HTML | CSS | Bootstrap | Django | Numpy | Pandas | Scikit-Learn | BeautifulSoup | Selenium | NLTK | SPSS | VBA | Modeling | Forecasting | APIs | Machine Learning | IBM Cognos | MongoDB | MySQL | SQL Server | ETL | ELT | dbt | ERD Design | Tableau | Matplotlib | ggplot2 | D3.js | Seaborn | Leaflet.js | GCP | Salesforce | Flash | InDesign | Jupyter Notebook | MS Office | Git | RegEx | InDesign | Photoshop | Illustrator | Dreamweaver | Animate | Excel | Tableau | Sigma | Social Media | Google Analytics
Professional Experience
Data Analyst
Dec 2021 - Present
Clover Network, Colorado Springs, CO
Engage with developers to ensure they are fully supported through the entire app development lifecycle, from concept, through approval, to eventual boarding and billing support.
Automated various processes including developer approval by building a python script resulting in a 700%+ increase in efficiency
Decreased median time to close on developer inquiries by 300%+
Analyzed 100gb+ of developer data and devised a dashboard with important KPIs using Sigma and Snowflake
Built in-house NLP tool to analyze sentiment and topic of millions of developer conversations and created a future proof ETL pipeline, gaining a better understanding of developer's sentiment and a categorization of requests
Data Reporting Specialist
Aug 2021 - Nov 2021
Envision Radiology, Colorado Springs, CO
Provided a master data source that is adaptable to Envision Radiology's aggressive growth initiatives.
Increased database accuracy by 12%+ by performing deduplications of 1000+ physician records
Designed an ETL pipeline to report physician data to accommodate a single physician with one or more office locations resulting in a 30% reduction of HIPAA violations and 20% better ROI from physicians
Programmed a VBA Macro for data validation and geocoding using APIs resulting in improved in-house processes and accuracy
Decision Support Analyst
Jul 2018 - Jul 2020
Envision Radiology, Colorado Springs, CO
Supported the Sales and Marketing teams in analytical and data gathering activities that delivered insightful, actionable, and gainful information for them to achieve their business goals and objectives.
Designed and developed a comprehensive Tableau dashboard and created an ETL pipeline to transition daily reports from 5+ data reporting platforms into a single dashboard, improving efficiency by 56% and reducing expenditure by $25,000+
Designed an executive-level Tableau dashboard, incorporating goal comparison, while using year-over-year calculations and nested calculations
Automated various reports and built VizAlerts for automatic distribution to managers, saving 1+ hours weekly
Consumer Insights and Analytics Intern
Jan 2017 - May 2017
United States Olympic and Paralympic Committee, Colorado Springs, CO
Oversaw outreach programs, social media analytics & advertisement, and brand growth/development.
Compiled a weekly content report and led a discussion with numerous departments to develop and streamline improved ways to engage fans based on research, trends, forecasts, and analytics
Led a comprehensive Request for Proposal process resulting in a 4 year, $500K contract with a multi-million-dollar research vendor
SEO Specialist and Web Design Intern
Jan 2013 - Aug 2016
Advan Design LLC, Akron, OH
Supported the design/development staff by providing designs, layouts, web page development, and search engine optimization which eased the workload of coworkers.
Improved page view count on an average site by 900%. This created E-commerce traffic for clients who then saw an increase in business and sales.
Portfolio
My journey started with a passion for design and has grown to be a passion for data.
Growing up I wanted to design logos and create advertisements, which turned into wanting to also get into website design. Web design soon grew to be a knack for SEO, too. That brought me to my ultimate passion: data, research, and analytics. The good news? They can all go together.
Whether it has been for school, work, or just for fun, I have enjoyed using my technical skills and creativity for all ranges of projects.